Alright me mateys! Today is now technically the last day of Pirates week since I wasn't able to post yesterday.
First off we have the Caption Contest. The winner is the person who entered the most captions that I like. The winner shall be presented with.... a surprise! So let's see who it is, shall we?
Captain Coon Sparrow~

Jack *in a desperate voice/thought*: "I hope he knows how to use that thing."
Cap'n Elizabeth Swann ~

Elizabeth *in an upset voice*: "Will...your father*near tears*...is...he's...he's...*hoarse, whispy and tense voice* is, a codfish."
Cap'n Elizabeth Swann ~

All: "ALL FOR ONE!"
Jack: "And the key for me."
Cap'n Coon Sparrow ~

"Open sesame....um....abracadabra... bloody thump-thump!.....bibbity bobbity boo!" *lid flies open, dust shoots out into Jack's face and knocks him backwards*
This one was a close tie!
Miss Gibbs:
Sao Fang: "Nice ship and crew Jacky."
Jack: " Thank you."
Barbossa: "Who said that it was HIS ship, it's mine."
Captain Tiger Teague
~
*Sao Feng* so do we have an agreement Jack? *Jack* Tacos you said?
Cap'n Elizabeth Swann:
Barbosa: "It wasn't Moi fault!"
Captain Tiger Teague
~
*Elizabeth* "Listen to me listen to me or else every one goes do bed without supper! Is that clear!!!!"
And now may I announce the winner! The grand prize goes to....
Cap'n Elizabeth Swann????? What? *Cap'n Liz glares* Alright then, Cap'n Lizzy it is! Here is your grand prize
Ta da! 'Ope ye like it matey! An' congrats to the rest of ye as well, I liked them as well! For participatin ye get: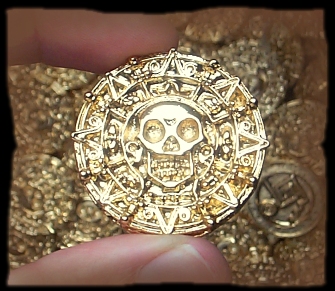 Authentic aztec gold coins straight from Isla de Muerta!!!!!!
Well, mates, this has been fun, but now I must do me last post to finish the week off!
~ Captain Fox Turner